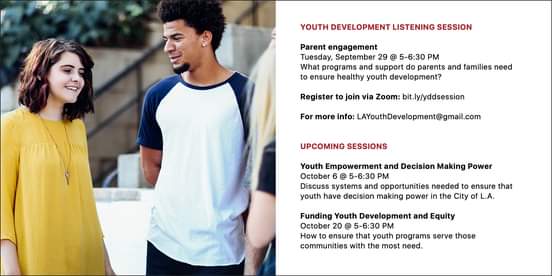 Please join me at our virtual Youth Development Listening Sessions to help shape LA's youth development strategy. At our upcoming session, we want to hear from you about what programs and services are needed for Los Angeles youth.
✅ Parent engagement
Tuesday, September 29 @ 5-6:30 PM
What programs and support do parents and families need to ensure healthy youth development?
Register to join via Zoom:bit.ly/yddsession
For more info: LAYouthDevelopment@gmail.com
__
UPCOMING SESSIONS
✅ Youth Empowerment and Decision Making Power
October 6 @ 5-6:30 PM
Discuss systems and opportunities needed to ensure that youth have decision making power in the City of L.A.
✅ Funding Youth Development and Equity
October 20 @ 5-6:30 PM
How to ensure that youth programs serve those communities with the most need. How much should be invested in LA's Youth Development Department?