US President Donald Trump touched down in India on Monday (24th Feb.) ready to feel the love. The Air Force One plane carrying President Trump and his wife First Lady Melania landed at the Ahmedabad's Sardar Vallabhbhai Patel international airport here at 11.37 am (IST). Prime Minister Narendra Modi greeted President Trump upon arrival with a hug.
President Trump was accompanied by the US First Lady Melania Trump, daughter Ivanka, son-in-law Jared Kushner and top brass of his administration.
It was all an elaborate display meant to illustrate just how close Trump and Modi are, or at least how close they want to world to believe they are. At regular intervals throughout New Delhi and Ahmedabad, larger-than-life images of the two men are plastered on signs and posts. One declared: "Two dynamic personalities, one momentous occasion."
After landing in Ahmedabad, Trump visited Mahatma Gandhi's Sabarmati Ashram. During the visit, Trump and Melania also tried their hands on the charkha. Before leaving, Trump wrote a message in the visitors' book of the Ashram."To my great friend Prime Minister Modi – Thank you for this wonderful visit," wrote Trump and signed the message. It was also signed by Melania.
Both men heaped praise on the other during a massive "Namaste Trump" rally in the world's largest cricket stadium, held in Modi's home state, Gujarat.
"Your nation has always been admired around the earth as the place where millions upon millions of Hindus and Muslims and Sikhs and Jains worship side by side in harmony," Trump said.
But the US president also offered a robust defense of using immigration controls to prevent what he calls "radical Islamic terrorism," bolstering some of Modi's hardline views.
"Every nation has the right to secure and controlled borders," he said. "The United States and India are committed to working together to stop terrorists and fight their ideology."
Trump peppered his speech with applause lines, guaranteeing his crowd roared with approval when he named famous Indian cricketers or listed the titles of a few Bollywood films.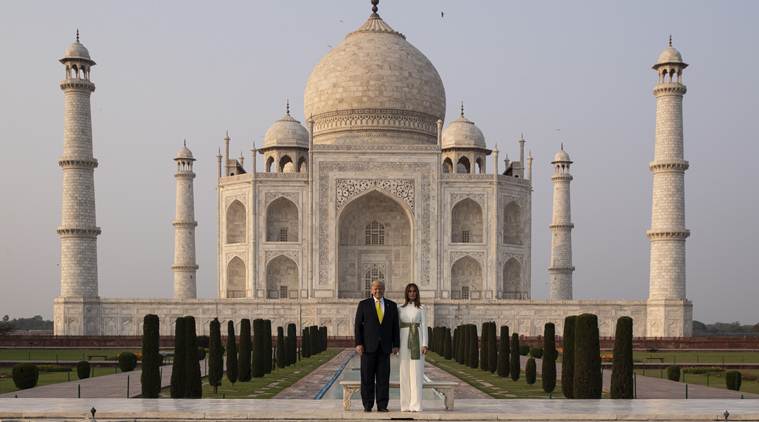 Image Courtesy: Indianexpress.com
He flew from Ahmedabad to Agra, where he took an early evening tour of the Taj Mahal, the late-afternoon sunsetting the famous white marble mausoleum aglow.
Standing in front of the iconic symbol of lasting love — which he'd never visited previously, despite naming one of his Atlantic City casinos after it — the President stood hand-in-hand with the first lady declaring the site "truly incredible."
Over 10,000 police personnel, besides officials of the United States Secret Service, and personnel of the National Security Guards (NSG) and the Special Protection Group (SPG) have been deployed for the high profile visit.