After an eventful first day, US President Donald Trump and US First Lady Melania Trump were accorded a ceremonial reception by President Ram Nath Kovind at the Rashtrapati Bhawan. Following this, the Trumps went to Raj Ghat to pay their respects to the Father of the Nation, Mahatma Gandhi. POTUS and Modi later met at Hyderabad House for a round of restricted dialogue as well as delegation-level talks.
India and the US inked three memorandums of understanding (MoUs) on Tuesday in New Delhi on US President Donald Trump's second day of his maiden visit here.
The agreements were signed in the health and oil sectors. An MoU was signed on mental health between the health departments of the countries.
Another memorandum of understanding on the safety of medical products was signed between the Central Drugs Standard Control Organization with the US Food and Drug Administration.
A letter of cooperation was signed between Indian Oil Corporation Limited and Exxon Mobil India LNG Limited and Chart Industries Inc, US.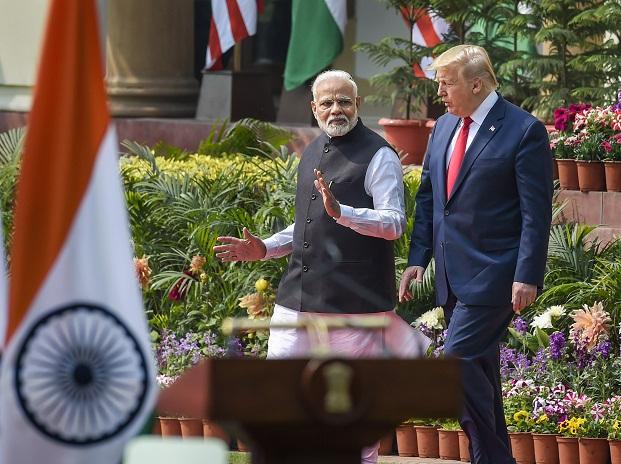 New Delhi: Prime Minister Narendra Modi (L) and US President Donald Trump arrive to address their joint press statement, at the Hyderabad House in New Delhi, Tuesday, Feb. 25, 2020. (PTI Photo/Kamal Singh)
As was expected, helicopter deals (including Apache and MH60 Romeo choppers) worth $3 billion were also finalized, in yet another sign of India's shift to the US for military supplies from its traditional supplier, Russia. In his brief remarks at the start of official talks, Modi said: "Defence cooperation between two countries is reflective of rising strategic partnership between India and US. We also agreed on new mechanism to contain drug trafficking."
Later in the day, Trump addressed a gathering of business leaders at the national capital. Speaking about coronavirus he assured India Inc that the outbreak is now under control.
"China is working very hard to contain coronavirus; it looks like they are getting it more and more under control. Coronavirus outbreak is going to be under control," he said.
Asserting that the situation in the US is under control, Trump said the US also does business with other nations and wants other countries to be "happy healthy and well".
Sounding optimistic about his own prospects in the upcoming US elections, President Trump said: "Markets will jump thousands of points when I win."
At 5 pm (IST), Donald Trump took questions at a press conference. He later attended a state banquet at Rashtrapati Bhavan, where he received a ceremonial welcome this morning.
At around 10 pm (IST) US President Donald Trump & First Lady Melania Trump departed from Delhi following the conclusion of their two-day visit to India.