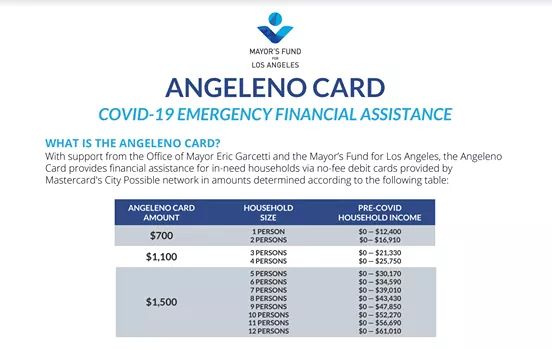 Mayor Eric Garcetti announced direct financial assistance to Angelenos facing extreme economic hardship as a result of the COVID-19 crisis.
The application process for the Angeleno Card opens TODAY (Tuesday, April 14 at 8:30 am). Applications will be accepted from 8:30 am- 4:30 pm on Tuesday, Wednesday, and Thursday.
The Angeleno Card aims to help low-wage hourly workers who had jobs in homes and restaurants, seasonal workers, and other workers such as day laborers, street vendors, or self-employed individuals who are experiencing heightened financial hardship because of COVID-19.
To be eligible, applicants must provide documentation that confirms that:
1) their household is in the City of Los Angeles,
2) their income fell below the Federal Poverty Level per household size before the COVID-19 crisis (see table below),
3) they have fallen into deeper economic hardship during the crisis because at least one household member lost a job or had a reduction in income of at least 50%. Immigration status is not considered in determining eligibility.
Applications for the Angeleno Card will be available only online by visiting hcidla.lacity.org. Individual applications can only be completed Tuesday, April 14 through Thursday, April 16, from 8:30 a.m. to 4:30 p.m. People without internet access or who need help applying online may call 213-252-3040, Tuesday, April 14 through Thursday, April 16, 8:30 a.m. to 4:30 p.m.
Those who pre-qualify based on their online or telephone applications will be given an in-person appointment at a designated community center. These centers cannot help anyone without an appointment.
————————-
El alcalde Eric Garcetti anunció asistencia financiera directa a los angelinos que enfrentan dificultades económicas extremas como resultado de la crisis COVID-19. El proceso de solicitud para la Tarjeta Angeleno se abre el martes 14 de abril a las 8:30 a.m. Se aceptarán solicitudes de 8:30 a.m. a 4:30 p.m. el martes, miércoles y jueves de esta semana solamente. La Tarjeta Angeleno tiene como objetivo ayudar a los trabajadores de bajos salarios que tenían trabajos en hogares y restaurantes, trabajado temporales, jornaleros, vendedores ambulantes o personas que trabajan por cuenta propia y que están experimentando dificultades financieras mayores debido a COVID-19.
Para ser elegible, los solicitantes deben proporcionar documentación que confirme que:
1) su hogar está en la ciudad de Los Ángeles,
2) falta de los mínimos recursos económicos para poder sostener su hogar antes de la crisis COVID-19 (ver la tabla a continuación),
3) están en dificultades económicas más profundas durante la crisis porque al menos un miembro del hogar perdió un trabajo o tuvo una reducción en los ingresos de al menos el 50%. El estado de inmigración no se considera al determinar la elegibilidad dado que este programa está financiado de forma privada. Cualquier asistencia recibida no se considera un beneficio público y no está sujeta a la regla de Cargo Público.
Las solicitudes para la tarjeta Angeleno estarán disponibles sólo en línea visitando hcidla.lacity.org. Las solicitudes individuales solo se pueden completar del Martes 14 de Abril hasta el Jueves 16 de Abril de 8:30 a.m. hasta las 4:30 p.m. Las personas sin acceso a Internet o que necesitan ayuda para solicitar en línea pueden llamar al 213-252-3040, del Martes 14 de Abril hasta el Jueves 16 de Abril, de las 8:30 a.m. hasta las 4:30 p.m.
Aquellos que pre-califiquen en función de sus solicitudes en línea o telefónicas recibirán una cita en persona en un centro comunitario designado. Estos centros no pueden ayudar a nadie sin una cita. Los solicitantes deberán proporcionar documentación en esta cita y podrán subir fotos o copias digitales de la documentación por adelantado. Los solicitantes aprobados recibirán una tarjeta por un monto entre $ 700 y $ 1500, según los ingresos y el tamaño del hogar.
———————
Քաղաքապետ Գարսետին յայտարարել է անմիջական տնտեսական օգնութեան միջոց, այն մարդկանց համար որ Քորոնա Ժահրի գործնական փակումների պատճառով գործազուրկ են եղել ։
Այս ծրագիրը սկսուելու է, Ապրիլի 14-ից մինչև Ապրիլի 16, 8:30 առաւօտից մինչև 4:30 երեկոյեան։։ «Angeleno Card» ծրագրի նպատակը տնտեսական օգնութիւն հասցնելն է այն գործաուրներին որ աշխատանքային կորուստ են ունեցել COVID-19-ի պատճառով։
«Angeleno Card» ծրագրից օգտուէլու համար հարկաւոր էհետևեալը։
1)Լոս Անճելըս Քաղաքի Բնակիչ եք։
2) Իբր Դաշնակցային նախագիծով, ձեր եկամուտը միջին կարգից աւելի ցածր դրութեան մէջ էր գտնուում մինչև COVID-19ի տնտեսական ազդեցութիւնից ։
3) Դուք կամ ձեր ընտանիքի անդամներից մէկը գործազուրկ է եղել կամ եկամուտի 50 տոկոս կորուստ է ունեցել։
Դիմումնագիրը լրացնելու համար այցելեցէք hcidla.lacity.org, կամ զանգահարէք 213-252-3040։