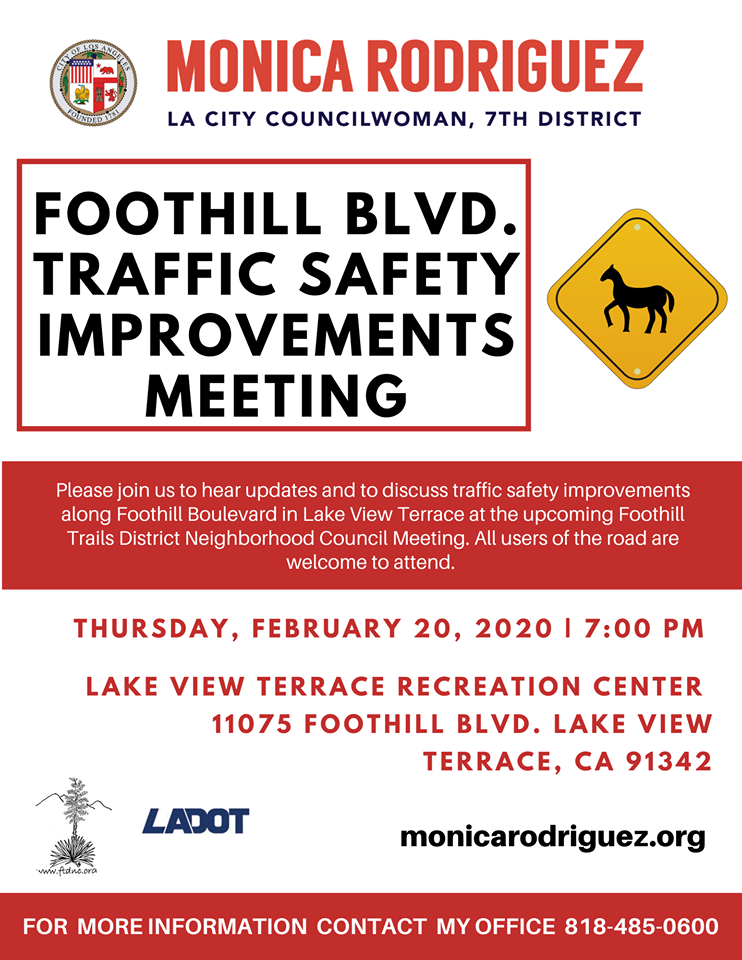 Please join my office and the LADOT Official at the upcoming Foothill Trails District Neighborhood Council Meeting to hear updates and to discuss traffic safety improvements along Foothill Boulevard in Lake View Terrace on February 20 at 7:00 pm at the Lake View Terrace Recreation Center, 11075 Foothill Blvd.
In late October, a tragic collision killed two horses and severely injured their riders as they were riding along Foothill Blvd in Lake View Terrace. In November 2019, I introduced a motion directing our City departments, such as LADOT and the Bureau of Street Lighting, to work on a safety improvement plan for the existing conditions on this road and create a contiguous bridle path throughout the area, providing a safe space for riders off of the physical road. The safety on our streets, sidewalks, and bridle paths is one of my top priorities, and I am working on a holistic approach to enhance public safety throughout the 7th Council District.
We encourage the community to attend and share your thoughts on how we can better improve safety along Foothill Blvd for all users of the road. All users of the road are welcome to attend.
For more information call my district office at 818-485-0600.