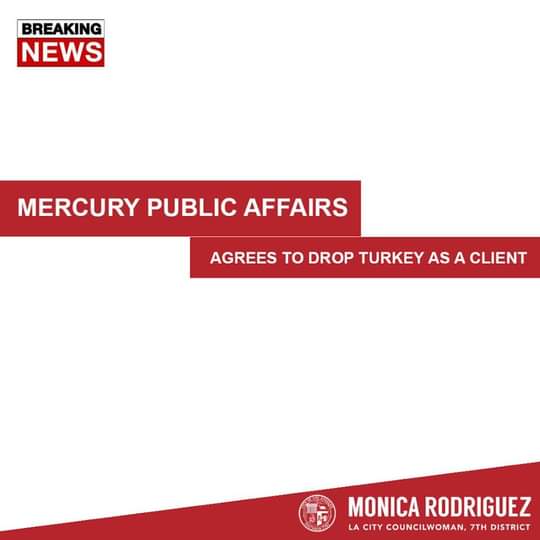 BREAKING NEWS: Today my office was informed that Mercury Public Affairs has severed its ties with the Republic of Turkey. I am grateful that Mercury Public Affairs has chosen to stand on the right side of history by ending its relationship with Turkey. We can't allow Turkey's genocidal rhetoric, denial of the Armenian Genocide, and denial of current war crimes to continue.
We also learned this week that DLA Piper and The Livingston Group, law and public relations firms in Los Angeles, have cut their ties with the Republic of Azerbaijan. With the support of their closest ally (Turkey), Azerbaijan has continued to carry out unprovoked attacks on the Republic of Artsakh.
Together, we said "no more" and our collective voices were heard. As a city and greater LA community, we will continue to stand up to hate. We will not have dealings with any firms that supports or is supported by those who commit or deny genocide.
#StopGenocide #Artsakh #ArtsakhStrong #Armenia #StopAzeriAggression #DefendArtsakh #DefendArmenia #ՀաղթելուԵնք #հայաստան