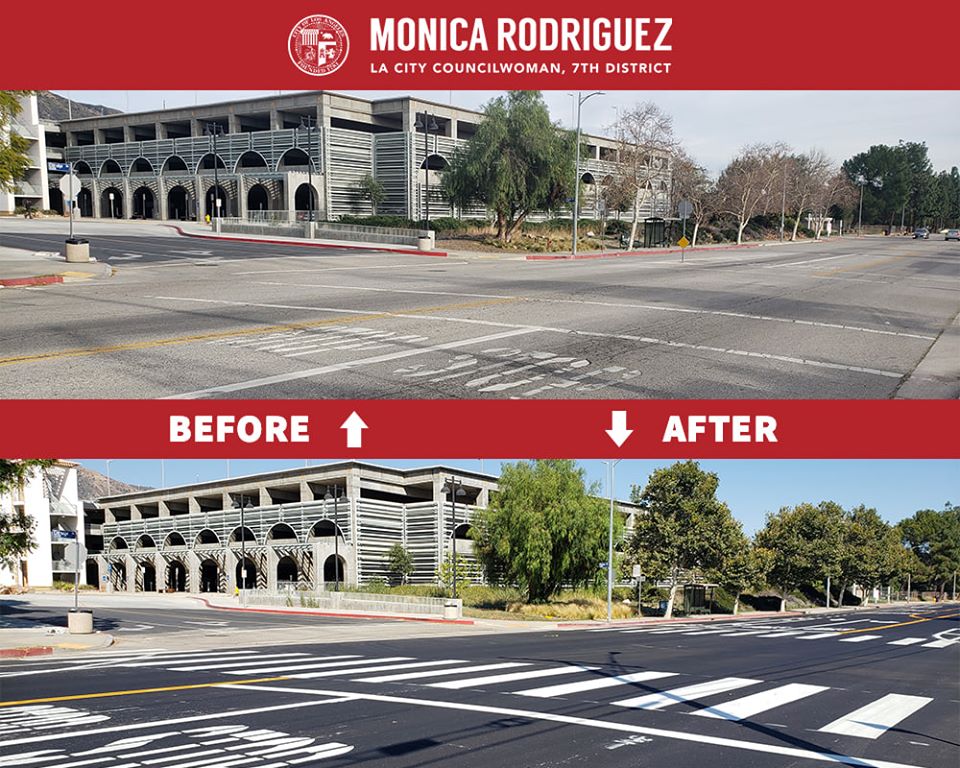 I'm pleased to announce the completion of a major road resurfacing project on Eldridge Avenue in Sylmar. After conducting thorough outreach in July, including an online survey to impacted stakeholders which resulted in approximately 60% of respondents supporting re-striping, the Bureau of Streets Services resurfaced nearly two-lane miles of Eldridge Avenue in Sylmar.
This effort is part of a larger transformation project to reconfigure the busy road to a safer path for cyclists and all road users. This project will extend the Eldridge bicycle lanes that currently end at Hubbard Street south to Harding Street to create a safer connection between Mission College campuses, neighborhood destinations such as parks and schools, and the Pacoima Wash.
LADOT will also add new crosswalks to improve visibility and safety for pedestrians at intersections. Together, crosswalks and bike lanes will calm traffic and reduce speeding to create a safe, shared space for people walking, biking, and driving so that residents, students, staff, and visitors of all ages and abilities can more comfortably use Eldridge Avenue.
If you have any questions about this project, please call our Sylmar office at (818) 756-8409 or contact us at this link: https://bit.ly/CD7contact