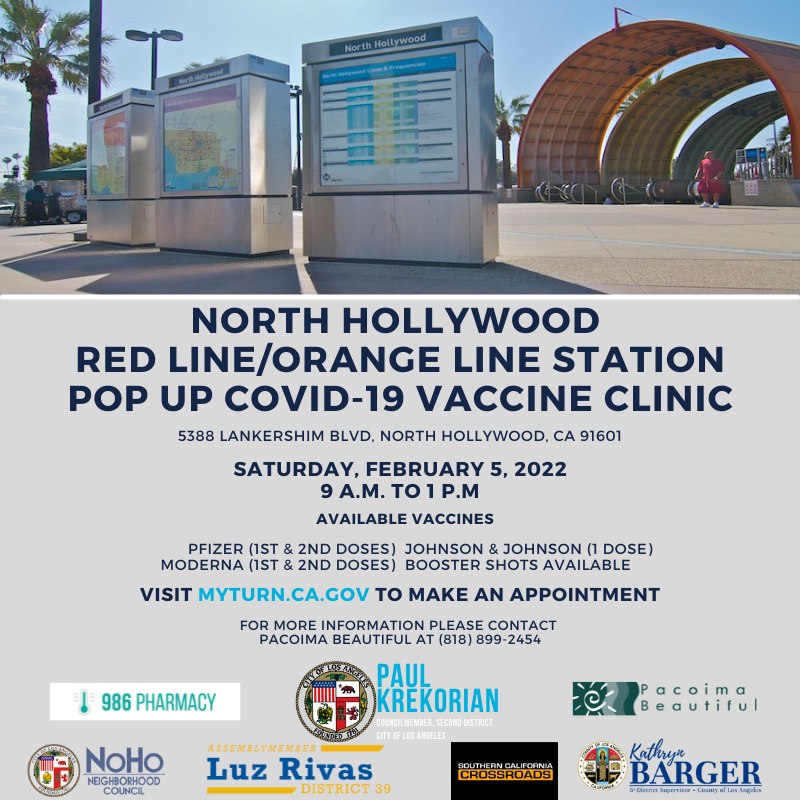 In partnership with Pacoima Beautiful, Paul Krekorian, 986 Pharmacy, NoHo Neighborhood Council, Southern California Crossroads, and Supervisor Kathryn Barger, we are hosting another COVID-19 pop-up vaccination clinic in North Hollywood.
Join us at the Red Line/Orange Line tomorrow, February 5th from 9:00 a.m. to 1:00 p.m. for a free pop-up clinic offering the Pfizer, Moderna, and J&J vaccines, as well as booster doses for qualified residents.
Walk-ins are accepted, and appointments can be made through myturn.ca.gov.
———————————
Estamos organizando otra clínica de vacunación COVID-19 en North Hollywood!
Únase a nosotros en la Línea Roja/Línea Naranja este sábado 5 de febrero de 9:00 a.m. a 1:00 p.m. para una clínica gratuita que ofrece las vacunas Pfizer, Moderna y J&J, así como Booster Dose para residentes calificados.
Se aceptan visitas sin cita previa y se pueden hacer citas a través de myturn.ca.gov.