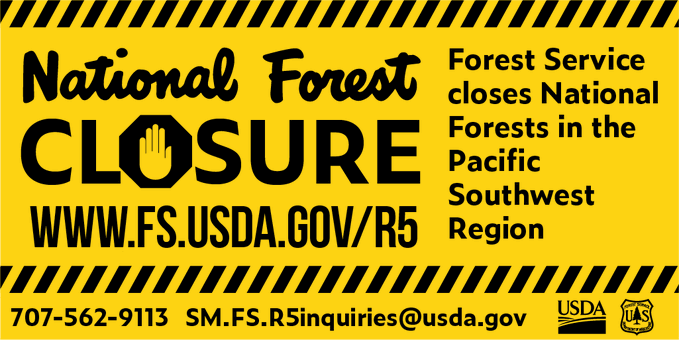 California national forests will be closed starting Tuesday, August 31, 2021, at 11:59 PM. The closures will be effective through September 17, 2021, at 11:59 PM to provide public and firefighter safety due to extreme fire conditions.
This is a good reminder to make sure that you are prepared in the event of a wildfire in our district. Below are some resources to help you prepare for an emergency.
-𝐋𝐀𝐅𝐃 '𝗪𝐢𝐥𝐝𝐟𝐢𝐫𝐞' 𝐏𝐚𝐠𝐞 – Visit for tips on hardening your home, preparing for an evacuation order, and viewing safety videos on wildfire in the City of LA: https://lafd.org/wildfire.
-𝐑𝐞𝐠𝐢𝐬𝐭𝐞𝐫 𝐘𝐨𝐮𝐫 𝐀𝐧𝐢𝐦𝐚𝐥𝐬 – If you're a horse or large animal owner, it is especially important to register your animal at: https://bit.ly/2UI7KNt.
-𝐍𝐨𝐭𝐢𝐟𝐲 𝐋𝐀 – Sign up to receive emergency alerts from the City of Los Angeles about local emergencies: https://emergency.lacity.org/notifyla
-𝐑𝐞𝐚𝐝𝐲, 𝐒𝐞𝐭, 𝐆𝐨 – Have a plan in place to prepare your family and property for the wildfire season: https://www.lafd.org/ready-set-go
-𝐃𝐨𝐰𝐧𝐞𝐝 𝐏𝐨𝐰𝐞𝐫 𝐋𝐢𝐧𝐞𝐬 – Never touch a downed or dangling wire or anyone or anything in contact with it. Always assume a downed line is still energized. Report any downed power lines immediately by calling the LADWP at 1-800-DIAL DWP (1-800-342-5397). If you or someone else is in danger, call 911.
-𝐃𝐨𝐰𝐧𝐞𝐝 𝐓𝐫𝐞𝐞𝐬, 𝐓𝐫𝐞𝐞 𝐋𝐢𝐦𝐛𝐬, 𝐨𝐫 𝐓𝐫𝐞𝐞 𝐄𝐦𝐞𝐫𝐠𝐞𝐧𝐜𝐢𝐞𝐬 – Report any tree emergency via MyLA311