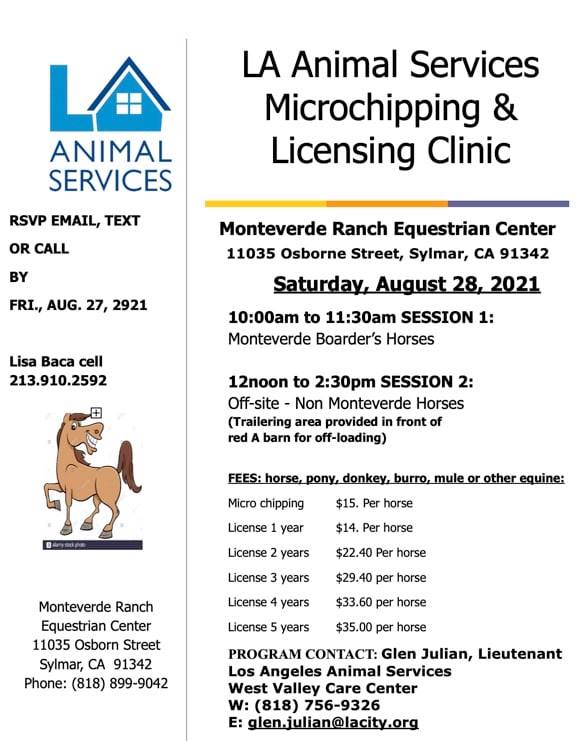 THANK YOU FOR THIS IMPORTANT INFO FROM CD7: Hello, everyone. As we move again into peak wildfire season, I wanted to let you all know that Animal Services will be hosting a microchipping and licensing clinic this coming Saturday, August 28, from 12-2:30p. It will be held at Monteverde Ranch, at 11035 Osborne in Lake View Terrace. You can license your horse for only $14 a year – or license it for 5 years at $35 (a steal at just $7/yr!). Licensing is critical as it helps the City maintain an accurate count of horses in our communities, which can help influence many types of decisions by the City, and even can help protect your horse-keeping rights on your own property. In addition, it lets our first responders know where horses live in the event of a wildfire or other evacuation scenario. Lastly, license fees are dedicated to improving the trail facilities in the City and helping to preserve safe access for riders and their horses. If you can't make the event, you can also register easily online for a license here at the Animal Services website: https://www.laanimalservices.com/laws…/animal-licenses/.
Microchipping will also be available at this event, for $15/horse. The microchips will contain the horse's license information, and owner's contact information. In the event of an evacuation due to wildfire, the microchip can give you peace of mind that your horse will be returned if it is separated from you.
Also, are you interested to join the City's Volunteer Equine Emergency Respomse Team? You can read more about the VEERT program here: https://www.laanimalservices.com/veert/. Save the date for an upcoming Level 2 and Level 3 VEERT training on Saturday, September 25! More information coming soon on this VEERT training…. Thank you, and stay safe! The event is targeted to licensing and chipping horses, but they will also license and chip dogs if they are brought in.