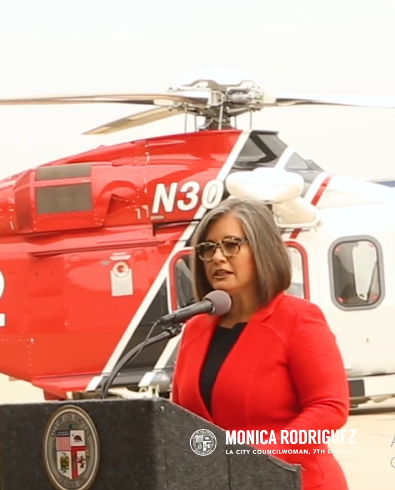 Today, I joined Mayor Eric Garcetti and Los Angeles Fire Department Chief Terrazas to talk about preparations for the 2021 Brush Fire Season and announce the beginning of the annual seasonal contract for the Erickson "Helitanker" water-dropping helicopter. My district has experienced some of the largest and most destructive fires in the region's recent history. During the Creek Fire, over 115,000 people in my district were evacuated and more than 15,000 acres were destroyed.
As a City, we must be prepared for the upcoming wildfire season. During my Wildfire and Emergency Preparedness webinar series, my office created the Emergency Preparedness Procedures and Checklists. To receive the complete checklist, please call my Sylmar District Office at (818) 756-8409, Pacoima District Office at (818) 485-0600, or Sunland-Tujunga District Office at (818) 352-3287.
👉🏻LAFD 'Wildfire' Page – View the wildfire page on the LAFD website for tips on hardening your home, preparing for an evacuation order and viewing safety videos on wildfire in the City of LA. More at: https://lafd.org/wildfire
👉🏻Notify LA – Sign up to receive emergency alerts from the City about local emergencies. More at: https://emergency.lacity.org/notifyla
👉🏻Ready, Set, Go – Have a plan in place to prepare your family and property for the wildfire season. More at: https://www.lafd.org/ready-set-go
👉🏻Register your animal at https://bit.ly/2UI7KNt
👉🏻Downed Power Lines: Never touch a downed or dangling wire or anyone or anything in contact with it. Always assume a downed line is still energized. Report any downed power lines immediately by calling the LADWP at 1-800-DIAL DWP (1-800-342-5397). If you or someone else is in danger, call 911.
👉🏻Downed trees, tree limbs, or tree emergencies: Report any tree emergency via MyLA311