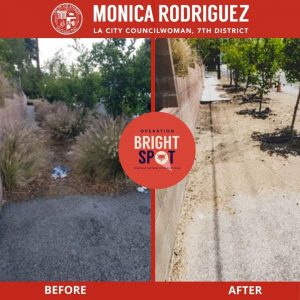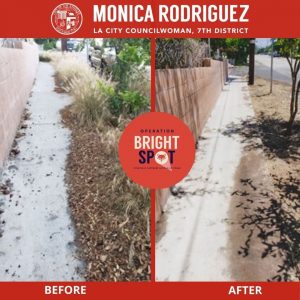 Operation Bright S.P.O.T. crew completed cleaning on Foothill Boulevard through Sunland, between Mt. Gleason Street and the 210 freeway. Our crews removed weeds, cleaned the tree wells, picked up litter, cleared graffiti, power-washed the sidewalks, and swept the streets that don't have regularly scheduled street sweeping.
Additionally, a concerned resident contacted my office regarding a challenging intersection of Tujunga Canyon Boulevard and Silverton Avenue, where weeds grew creating a public hazard. Our crew cleared all of the weedy vegetation blocking access to this corner.
Please help us continue to keep these stretches clean by reporting any issues you see to our free MyLA311 app or by calling 311. This program allows the City to address any issues in the public right-of-way quickly, including graffiti, potholes, illegal dumping, and much more.
If you have a location in mind that may benefit from Operation Bright S.P.O.T., call my Pacoima office at (818) 485-0600, Sylmar office at (818) 756-8409, or Sunland-Tujunga office at (818) 352-3287.