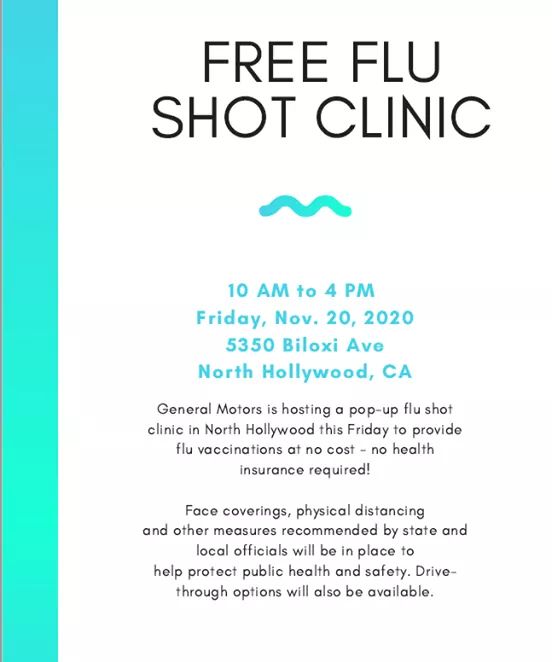 General Motors and CVS Health are working to increase access to flu vaccines in the Greater Los Angeles area to help avoid a dual pandemic in the region. GM and CVS will host a pop-up flu shot clinic in North Hollywood for residents to receive the flu vaccine at no cost – no health insurance required.
Face coverings, physical distancing, and other measures recommended by state and local officials will be in place to help protect public health and safety. Drive-through options will also be available. Note that flu shots will be available while supplies last.
NORTH HOLLYWOOD FLU CLINIC
Date & Time:
Friday, November 20, 2020, 10 a.m. – 4 p.m.
Location:
5350 Biloxi Ave
North Hollywood, CA 91601
Flu Vaccine Information
Flu vaccinations are recommended for everyone over 6 months of age, including healthy children and adults. Flu immunization is especially recommended for people at high risk of developing serious flu-related complications, including:
• People 65 years of age and older
• Pregnant women
• Children younger than 5 years of age
• People with chronic medical conditions such as asthma, heart disease, diabetes or HIV
For more information, visit http://publichealth.lacounty.gov/media/FluSeason.
Together, we can all do our part to stay safe, and healthy.