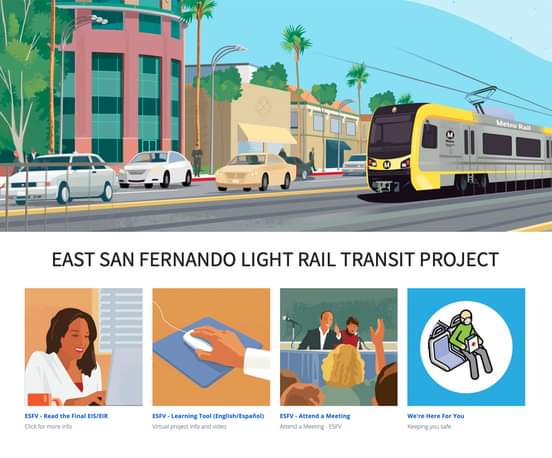 Metro is bringing light rail to the Valley to make travel more convenient. The project plans include building a new median-running light rail line with 14 stations along Van Nuys Blvd from the Metro G Line (Orange) to the Sylmar/San Fernando Metrolink Station.
Last Friday, Metro released the Final EIR/EIS for the East San Fernando Valley Transit Corridor. This environmental document informs the community where and how the light rail will run, potential impacts to the community, and how those impacts will be addressed.
The community will have 30 days (now through November 2nd) to provide final comments on any remaining issues or concerns during construction. Your participation in the virtual meetings held on October 14 and October 26 will help the community.
To request a copy of the FEIR/FEIS, call the project hotline at 818-701-3844 or visit: www.metro.net/projects/east-sfv/
To use the East San Fernando Valley Transit Corridor Learning Tool, an interactive experience that will walk you through an overview of the project, visit: https://www.metro.net/projects/east-sfv/esfv-learning-tool/
#SFVtransit #LightRail