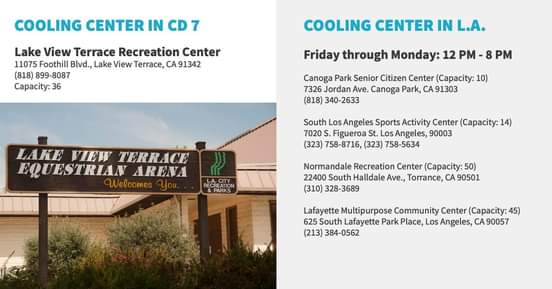 Los Angeles is going to have a heat wave this weekend with temperatures in the low 100's. The City of LA has 5 cooling centers for individuals and families who need protection from the heat. The cooling center in our district is located at:
Lake View Terrace Recreation Center
11075 Foothill Blvd., Lake View Terrace, CA 91342
(818) 899-8087
Capacity: 36
Due to COVID-19 social distancing requirements, capacity is limited — please call ahead to check availability.
Available from: Friday, Sept. 4th — Monday, Sept. 7th
Times: 12:00 pm – 8:00 pm (unless otherwise noted)
* The City Department on Disability works to provide reasonable accommodation to ensure accessibility and effective communications for people with disabilities and others with access and functional needs at cooling centers.
For additional locations and information, visit: emergency.lacity.org/heat