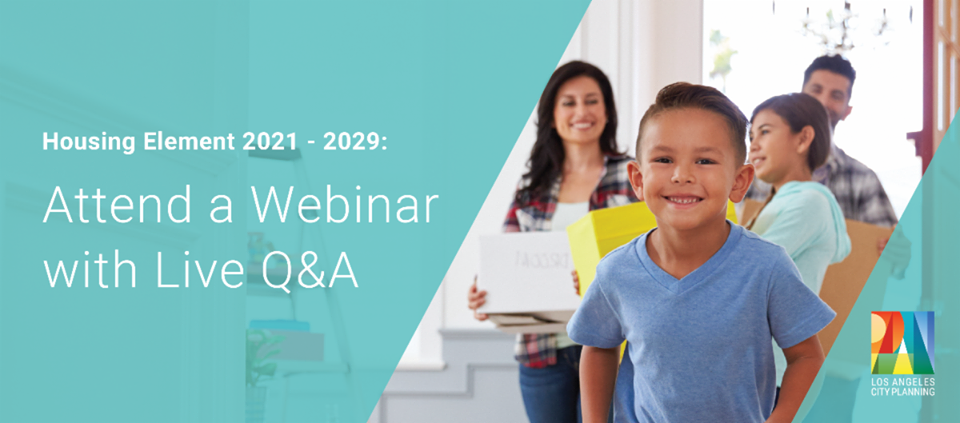 Para español siga hacia abajo.
Dear interested parties,
Thank you to the over 300 community members that participated in the Housing Element Webinars over the past few weeks. In the midst of these Webinars, the nation was faced with renewed conversations around systemic racial inequity, an issue the Plan to House LA seeks to address. With the insightful discussions and contributions in our webinars, we continue to identify solutions and develop goals that will further the principles of equitable and affordable housing opportunities for all.
What's Next? Be sure to complete the Digital Workshop to share your input. We will compile the comments we received in this vision phase of the plan update into an outreach summary to share out in the future.
We are moving to the next phase of the Plan update, the Concepts Phase this summer. We will be continuing outreach throughout the Housing Element Update process and there will be more opportunities to help shape the Plan to House LA.
Resources
Recording of the English Webinar Presentation – https://www.youtube.com/watch?v=4dQhiyF-H3A&feature=youtu.be
Recording of the Spanish Webinar Presentation – https://www.youtube.com/watch?v=1EZmYSqLr0E&feature=youtu.be
Get Involved
You can learn more about the effort and sign up to get involved here: https://planning4la.org/Plan2HouseLA or email us at housing.element@lacity.org.
Estimados Interesados,
Gracias a los más de 300 miembros de la comunidad que participaron en los seminarios web sobre el Elemento de Vivienda en las últimas semanas. En medio de estos seminarios web, la nación se enfrentó a conversaciones renovadas en torno a la inequidad racial sistémica, un tema que el Plan de Vivienda de Los Ángeles busca abordar. Gracias a las perspicaces discusiones y contribuciones en nuestros seminarios web, continuamos identificando soluciones y desarrollando objetivos que promoverán los principios de oferta de viviendas equitativas y asequibles para todos y todas.
¿Que sigue? Asegúrese de completar el Taller Digital para compartir sus comentarios. Recopilaremos los comentarios que recibimos en esta fase sobre la visión de la actualización del plan en un resumen de divulgación que compartiremos en el futuro.
Seguiremos a la siguiente fase de la actualización del Plan, la Fase de Conceptos este verano. Continuaremos la divulgación durante todo el proceso de la Actualización del Elemento de Vivienda y habrá más oportunidades para ayudar a dar forma al Plan de Vivienda de Los Ángeles.
Recursos
Grabación de la presentación del seminario web en inglés i https://www.youtube.com/watch?v=4dQhiyF-H3A&feature=youtu.be
Grabación de la presentación del seminario web en español – https://www.youtube.com/watch?v=1EZmYSqLr0E&feature=youtu.be