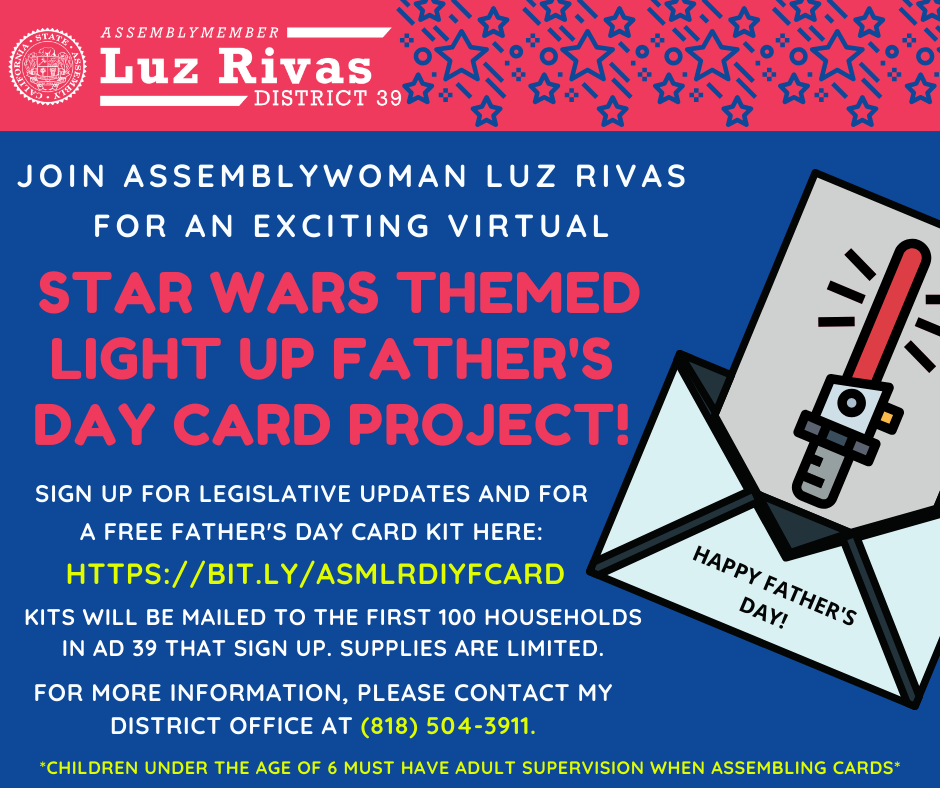 Father's Day is around the corner. This year, I will be mailing out a free Star Wars-themed Father's Day card project kit to #AD39 households that want to do a fun family friendly activity together. If you are interested in receiving this Father's Day card kit, building it with me, and hearing about my legislative updates, please sign up here: https://bit.ly/asmlrdiyfcard
Please note the following:
1) 1 kit per household.
2) Each kit has enough supplies to make 2 lightsaber cards.
3) These kits are first come, first serve. Supplies are limited.
4) Children under the age of 6 must have adult supervision when assembling the kit.
For more information, please contact my Office at (818) 504-3911.
El día del padre está a la vuelta de la esquina. Este año, enviaré por correo un kit de proyecto para hacer una tarjeta tema de la guerra de las galaxias para el Día del Padre a los hogares del distrito 39 que quieran realizar juntos una divertida actividad familiar. Si está interesado en recibir este kit para hacer una tarjeta para el día del padre, construirlo conmigo y conocer mis actualizaciones legislativas, regístrese aquí: https://bit.ly/asmlrdiyfcard
Tenga en cuenta lo siguiente:
1) 1 kit por hogar.
2) Cada kit tiene suficientes suministros para hacer 2 espadas laser.
3) Estos kits son por orden de llegada. Los suministros son limitados.
4) Los niños menores de 6 años deben tener la supervisión de un adulto al montar el kit.
Para más información por favor llama a mi oficina en el Distrito al 818-504-3911.