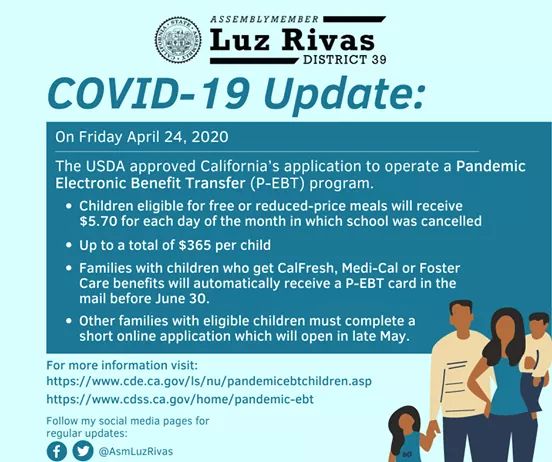 On April 24th, 2020, the USDA approved California's application to operate a Pandemic Electronic Benefits Transfer (P-EBT) program.
This will assist many families in the 39th District by:
• Children eligible for free or reduced-price meals will receive $5.70 for each day of the month in which school was canceled, up to $365 per child.
• The California Department of Education and California Department of Social Services estimates that this will provide over $1.4 billion to over 3.8 million children.
• Families with children who get CalFresh, Medi-Cal, or Foster Care benefits will automatically receive a P-EBT card in the mail before June 30th.
Families with eligible children must complete a short online application that will open in late May. Students who receive P-EBT benefits are still eligible to receive meals at COVID-19 emergency sites. More information can be found at the following links:
CDE P-EBT update: https://www.cde.ca.gov/ls/nu/pandemicebtchildren.asp
CDSS P-EBT Update: https://www.cdss.ca.gov/home/pandemic-ebt
My office is here to assist, please contact the District Office at 818-504-3911 for any questions or concerns.