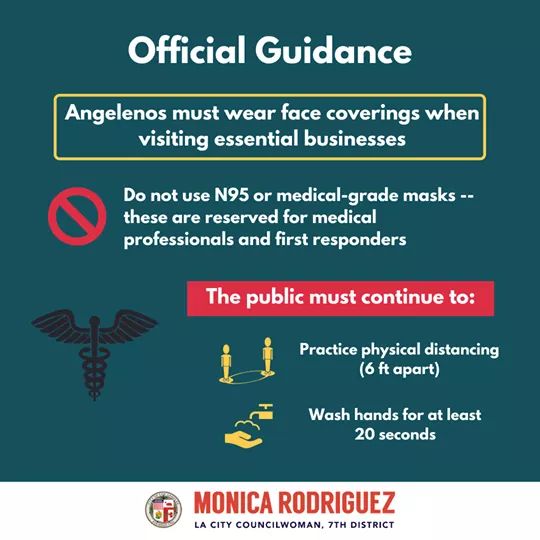 Wearing a face covering when you are interacting with others will help to contain your respiratory droplets. However, a face covering is not a substitute for other critical measures to slow the spread of COVID-19 — most importantly, stay home and practice safe physical distancing to help flatten the curve. A few important things to remember:
✅ Angelenos must wear face coverings while running errands in order to protect essential workers.
✅ Local manufacturers sell face coverings at the L.A. Protects website.
Face coverings can be made with a bandana or scarf.
✅ You should wash your face mask after each use.
At this time, you should not be purchasing medical-grade masks, due to a shortage for first responders and medical professionals.
✅Visit: www.corona-virus.la/FaceCovering for more information
————————-
Un recordatorio importante para el público sobre las reglas de cobertura facial:
✅ Angelinos debe cubrirse la cara mientras hacen mandados para proteger a los trabajadores esenciales.
✅ Los cubiertas faciales se pueden hacer con un pañuelo o una bufanda.
✅Usted debe lavarse la mascarilla después de cada uso.
✅En este momento, no se debe comprar máscaras de grado médico, debido a la falta de equipos para personal de primeros auxilios y profesionales médicos.
✅Visita: www.corona-virus.la/FaceCovering para obtener más información sobre las directrices de la Ciudad.