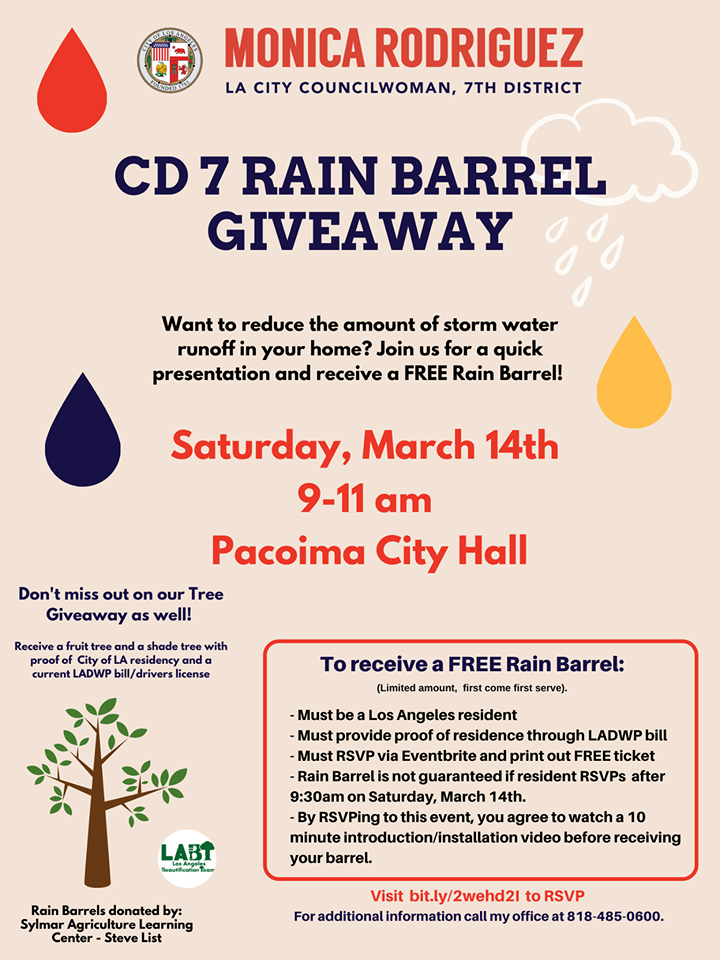 Want to reduce the amount of stormwater runoff in your home? Join #TeamMRod at our upcoming CD 7 Rain Barrel Giveaway! My office worked with Steve List from the Sylmar Agriculture Learning Center to provide FREE Rain Barrels for residents who RSVP via Eventbrite (RSVPs are limited for event, first come first serve). My team also collaborated with Los Angeles Beautification Team to coordinate a tree giveaway which will include fruit and shade trees! You don't want to miss out on this fun and informative event.
Please RSVP here: bit.ly/2vmAO0q
*Print out FREE eventbrite ticket and bring it with you to the event*
FREE Rain Barrel and Tree Giveaway Requirements:
– Must be a Los Angeles resident
– Must provide proof of residence through LADWP bill
– Must RSVP via Eventbrite and print out FREE ticket
– Rain Barrel is not guaranteed if resident RSVPs after 9:30am on Saturday, March 14th.
– By RSVPing to this event, you agree to watch a 10 minute introduction/installation video before receiving your barrel.
For more information see the flyer below or call my office at 818-485-0600.
#CD7 #RainBarrel #Tree #Giveaway #Community