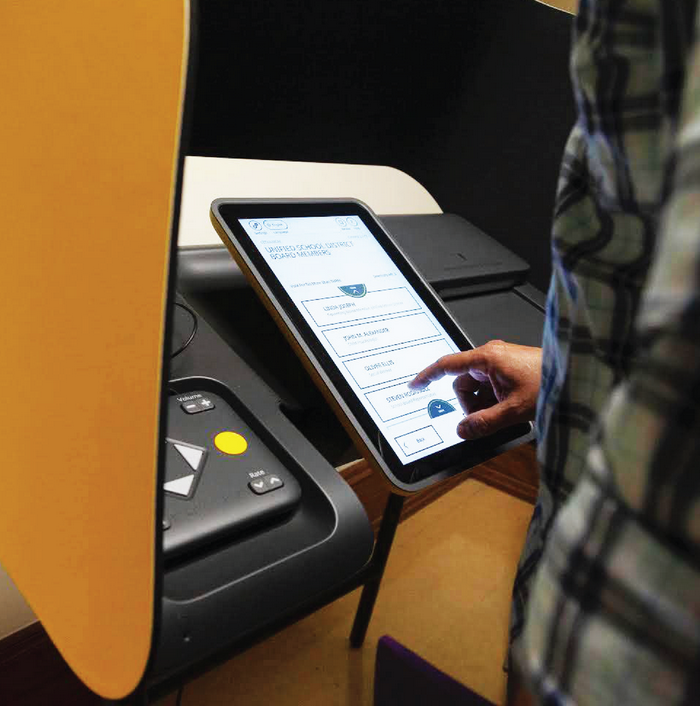 NEAREST VOTE CENTERS FOR SUNLAND-TUJUNGA
Vote Centers Open From February 22 – March 3, 220
La Crescenta Library
2809 Foothill Blvd.
La Crescenta 91214
Montrose Library
Meeting Room
2465 Honolulu Ave.
Montrose 91020
Vote Centers Open From February 29 – March 3
Pinewood Elementary School
Auditorium
10111 Silverton Ave.
Tujunga 91042
Sunland Elementary School
Auditorium
8350 Hillrose St.
Sunland 91040
Mountain View Elementary School
Auditorium
6410 Olcott St.
Tujunga 91042
Sunland Senior Citizen Center
Senior Club Room
8640 Fenwick St.
Sunland 91040
YOU CAN VOTE AT ANY VOTE CENTER IN L.A. COUNTY
Voting in Los Angeles County has changed, and the place you vote may have changed, too! LA County's new Vote Center program takes effect starting with the Primary elections this spring.
Here's an overview of what's different, and what to expect:
1. Within the City of Los Angeles, there are fewer Vote Centers than there were traditional polling places. Many former polling places are closed now, so it's really important to look up where you'll vote now and in the future at: http://Locator.LAvote.net
2. While the total number of places to vote is smaller, the number of possible places where you can vote is much greater, because now you can vote at *any* Vote Center in LA County. So if it's easier to vote during lunch while you're at work – do it! No need to commute home first, just to cast your ballot. All you need to do is look up what Vote Center is closest to the places where you actually spend your daytime hours.
3. You'll have a lot more time to cast your ballot than before. Instead of having just one day to vote, now you'll have up to 11 days! Please note, though, that while most Vote Centers are open for 11 days, some are only open for 4 days. So when you look up which Vote Center is convenient to your home, workplace, or school, make sure to check the dates it's open, too.
4. The official Election Day, March 3rd, is actually the *LAST* day that any voting center is open, and not the first. Four-day centers open Saturday February 29. Eleven-day centers open Saturday February 22nd. So if you aren't sure how long your local Vote Center is open, aim to visit it on or between Feb 29 – March 3. Note that all centers – even the four-day ones – are open at least one weekend, so that you no longer have to struggle to get to the polls on a school night.
5. Items on your ballot will appear in a different order than before. Local candidates and issues will appear on your ballot first; national candidates – such as Presidential candidates – are at the end.
HOW DO THE NEW ELECTRONIC BALLOT MARKING DEVICES WORK, AND ARE THEY SECURE?
Although the new electronic ballot marking devices have a touchpad, they are still actually paper-based devices. They are not online devices, and they are not vulnerable to hacking, because they are not connected to the internet, WiFi, or bluetooth. Your results cannot be downloaded, because they are not saved by the machine. The only record of your choices appears on the paper ballot that your machine prints out. That same paper ballot is what will be used to tally your vote when the ballots are counted.
SAVE TIME – GET A POLL PASS
This year, you'll be able to research and select your ballot choices in the comfort of your own home, then upload your choices at the polls using a Poll Pass on your smartphone or other mobile device. A Poll Pass is a scannable QR code that works like an airline boarding pass, which you can scan at the voting booth to upload your pre-filled ballot choices. You may either bring your Poll Pass to the polls on your smartphone, or print it.
To create your Poll Pass, simply fill out an Interactive Sample Ballot at http://isb.LAvote.net, and either print it or download it to your mobile device. In the voting booth, you will still be able to make changes to any selections you upload via your Poll Pass, before finalizing and turning in your ballot.
VOTE BY MAIL
You may also choose to skip going to a Vote Center by registering to Vote By Mail. You can Vote By Mail as a one-time option, or you can choose to do so permanently.
One-Time Vote By Mail Registration: If you're a registered voter in LA County, apply online to Vote By Mail in the March 3, 2020 election here: https://lavote.net/Apps/VoteByMail/Index?id=4085
Permanent Vote By Mail Registration: If you're already registered to vote in LA County, you can register online to be a permanent Vote By Mail voter. All you need to do is fill out a new voter registration form, and check the Permanent Vote By Mail box on the form. Access the form on this page by clicking the Register Now button:
https://www.lavote.net/home/voting-elections/voter-registration/register-to-vote/register
This process also works for voters registering for the first time, who wish to have Permanent Vote By Mail status.
Currently registered voters may also switch to Permanent Vote By Mail status by completing the form on the back cover of their Official Sample Ballot booklet, or by downloading this Permanent Vote By Mail application, and returning it to the office of the LA County Registrar: https://www.lavote.net/documents/permanent-vote-by-mail-application.pdf
LEARN MORE: PRINTABLE FAQ
The LA County Registrar-Recorder/County Clerk has prepared a print-friendly FAQ to help answer your questions or your stakeholders' questions about LA's new voting experience. Read and download the PDF here:
http://tiny.cc/LAVoteCenterFAQ
In 2020, Los Angeles County will transition from polling places to vote centers. This new model will allow voters to cast a ballot at any vote center location in the County over an 11-day period. The Vote Center Placement Project's (VCPP) core mission is to identify and place accessible and convenient vote center locations throughout Los Angeles County. You can test this new vote center model.
The March 3 election is right around the corner — and voting is going to be very different from what you're used to. The city does not determine these rules or manage our elections.
The Los Angeles County Registrar of Voters, which runs our elections, is instituting new voting machines, and new voting locations.
THE NEW VOTING SYSTEM
The LA County Registrar has done away with voting on a single day in a neighborhood polling place with a paper ballot. Under the new system, you can vote over an 11-day period on touch screens at regional voting centers (see where the voting centers will be located here). While the new system is supposed to make voting faster, easier and more convenient, some people will no doubt find it unfamiliar or confusing.
And there is a website with further details here: https://lavote.net/home/voting-elections/voting-options/new-voting-experience/