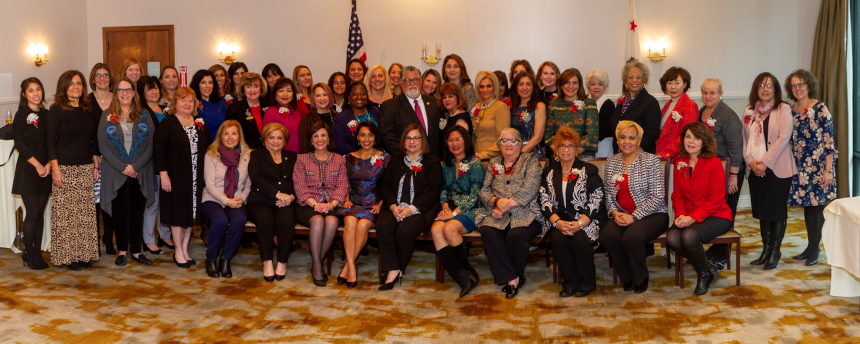 Burbank, California – On Wednesday, December 4th, California State Senator Anthony J. Portantino (La Cañada Flintridge) hosted the annual 25th State Senate District Women in Business Legislative Update & Awards Luncheon at The Castaway in Burbank, California. The Women in Business Awards honor local women who have contributed to the economic vitality and diversity of the 25th Senate District. Women in Business additionally celebrates women who have contributed to the greater good of our community. Honorees celebrated inspire others, stimulate our workforce and run some of the most impressive non-profits, healthcare organizations and businesses in the 25th State Senate District.
This year's luncheon proudly featured Keynote Speaker Dr. Lucy Jones, founder of the Dr. Lucy Jones Center for Science and Society and Research Associate at the Seismological Laboratory of Caltech. She has been at the forefront of all seismic movement experienced in California and nationwide. Additionally, the event included music performed by the Pasadena Conservatory of Music and Cantor Ruth Berman Harris.
Trailblazer ~ Ellen Ligons (Pasadena) & Sally De Witt (San Marino)
Volunteer ~ Talin Yacoubian (Los Angeles), Nancy E. Guillen (Burbank), Margie Green (San Dimas), Sonja Stump (Claremont), Veronica Chavoor (Burbank), Christina Ellixson (Burbank) & Jennifer Choi (La Cañada Flintridge)
Young Entrepreneur ~ Monique Vobecky (Glendora), Delilah Curry (South Pasadena) & Rhiannon Gillis (Atwater Village)
Empowerment ~ Armenian Relief Society of Western USA, Filipino American Business Association of Glendale & Glendale Council PTA
Small Business ~ Keshia Bowen (Monrovia), Linda Sells (Monrovia) & Meredith Miller (Altadena)
Law ~ Judge Armenui A. Ashvanian (Glendale), Genoveva Talbott (Claremont), Diane Lambillotte (Glendale) & Lucy Varpetian (Glendale)
Corporate ~ Bianca Vobecky (Glendora), D'Aquino Imports (Duarte) & Patricia D'Aquino (Duarte)
Medicine ~ Dr. Srpouhi Gasparyan (Pasadena), Dr. Wendy Shem Yeh (Pasadema), Dr. Andrea Brault (San Dimas) & Dr. Alexandra Levine (Duarte)
Education ~ Ani Keshishian (Montrose), Rebeca Andrada (La Crescenta), Sharon Cuseo (Burbank) & Taline Krikorian Arsenian (Glendale)
Non-Profit ~ Tara Peterson (Glendale), Judith Arandes (Burbank), Marianna Gatto (Los Angeles), Debra Manners (Pasadena), Tina Hughes (Upland), Michelle Kim (Pasadena), Barbara Miller (Burbank) & Vickie Reinhardt (Pasadena)
Inspirational ~ Reverend Cassie McCarty (Glendale) & Cantor Ruth Berman Harris (Pasadena)
Arts ~ Nina Crowe (Glendale), Marlene Hitt (Sunland Tujunga) & Anna Sheklow (La Crescenta)
Environment and Sustainability ~ Dominique Hargreaves (Pasadena) & Susana Reyes (Glendale)
"It is a pleasure to honor successful women in the 25th State Senate District.  Having a wonderful spouse who is a thriving business executive gives me a unique window into the challenges, opportunities, and successes of women business leaders throughout my district.  The women we honored this year are impressive and humble servants for their non-profits, businesses, and professions.   It is important to pause and to thank our deserving honorees for their successful service that touches all of us in such a positive way," commented Senator Anthony J. Portantino.
The main objective of the event was to celebrate exceptional women whose professional skills and commitment to their community have made them leaders and trailblazers in the 25th Senate District. The careers of the honorees varied across the spectrum of professions, including science and technology, corporate and small business, environmental protection, as well as non-profit organizations.   The Women in Business Award Luncheon was initiated by then Assemblymember Jack Scott over two decades ago.
Senator Portantino is the Chair of the California State Senate Select Committee on California Armenia, Artsakh Trade Art and Cultural Exchange.  He recently returned from his third trip to Armenia and New York City where he helped launch the historic trade MOU signed by Governor Newsom and the Government of Armenian.