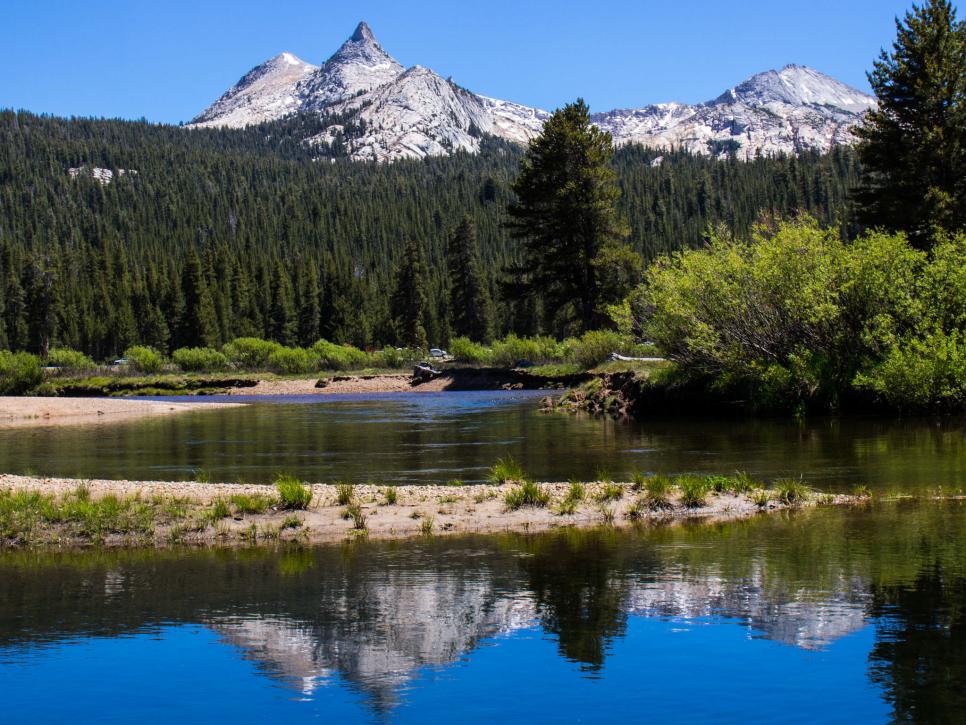 All of these National Parks are within a day's drive of Los Angeles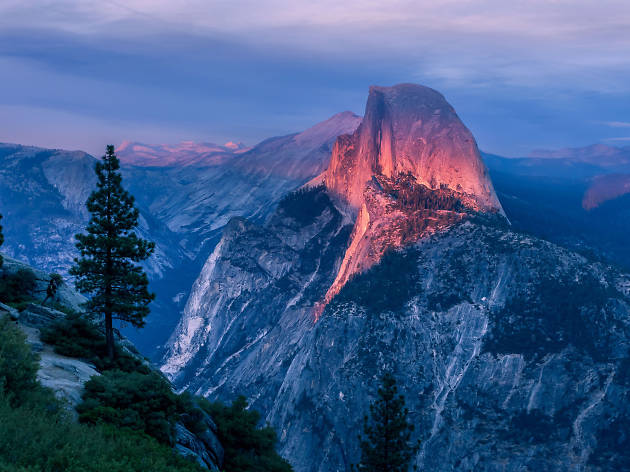 There's never been a better time to show your support for this country's incredible National Park system. We're lucky to live in a nation that protects and preserves 61 separate parks (nine of which are in California, the most in any state) totaling 52.2 million acres of land. We highly suggest making the trip to as many of these parks as possible, but have chosen to highlight those within a day's drive (eight hours or less) from Los Angeles—some are perfect for a day trip; others are better reserved for a road trip or weekend of camping. So get out there and enjoy (before it's too late!).
14 National Parks within driving distance of L.A.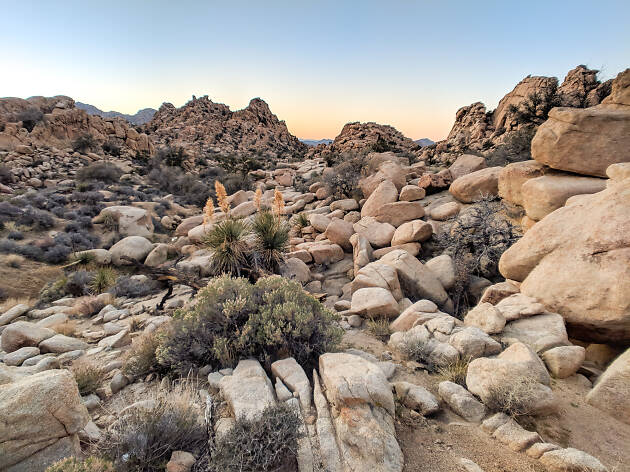 Photograph: Michael Juliano
2hr 30min from L.A.
This exotic desert landscape is populated by thousands of specimens of the famous Joshua tree—along with boulders and rock formations that make the views so iconic. Changes in elevation make for starkly contrasting environments including bleached sand dunes, dry lakes, rugged mountains, valleys full of wildflowers and giant clusters of granite monoliths.
Photograph: Courtesy Jared Murray
Channel Islands (California)
2hr drive, plus a 1–4hr boat ride, from L.A.
Five of the eight Channel Islands are protected, and half of the park's area is underwater. The Islands are home to more than 2,000 species of land plants and animals, and 145 are unique to the Islands, including the Island Fox.
Photograph: Courtesy Josh Carter
3hr 45min from L.A.
This park protects the Giant Forest, which boasts some of the world's largest trees, General Sherman being the largest in the park. It also has more than 240 caves, a scenic segment of the Sierra Nevada (including the tallest mountain in the contiguous United States) and a staircase climb to the top of Moro Rock.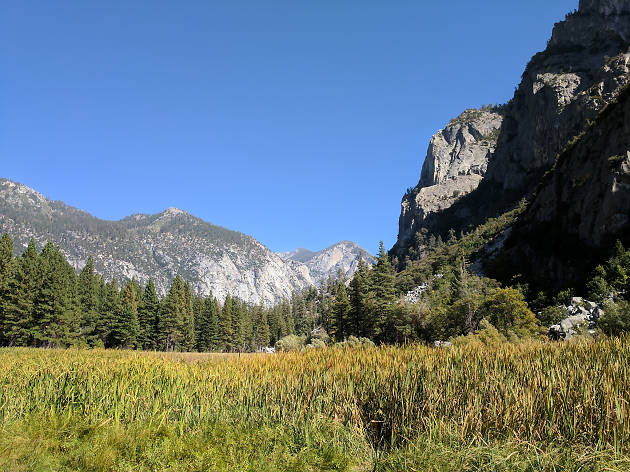 Photograph: Michael Juliano
Kings Canyon (California)
4hr 15min from L.A.
This park is home to several giant sequoia groves and the General Grant Tree (the world's second largest). It also features part of the Kings River, which flows through Kings Canyon, and the San Joaquin River, as well as Boyden Cave.
Photograph: Courtesy Meriç Dağlı
Death Valley (California and Nevada)
4hr 30min from L.A.
Death Valley is the hottest, lowest and driest place in the United States, with temperatures topping an insane 130 degrees. It's home to Badwater Basin, the lowest elevation in North America. That being said, the park is home to a diversity of colorful canyons, desolate badlands, shifting sand dunes and sprawling mountains, as well as more than 1,000 species of plants, plus salt flats, historic mines and hot and cold spring oases.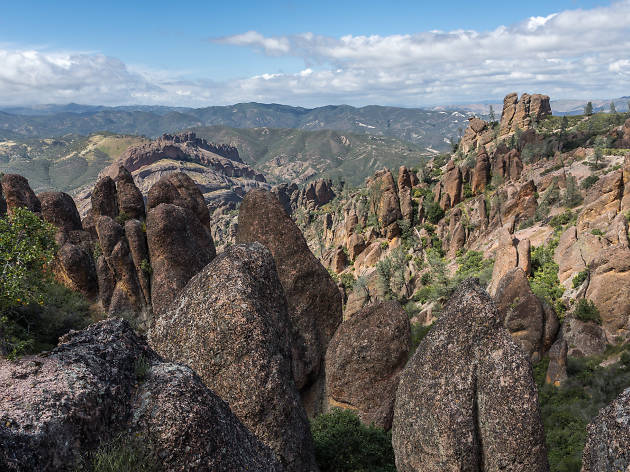 Photograph: Courtesy CC/Flickr/tom_stromer
4hr 30min from L.A.
Pinnacles is famous for its massive black and gold monoliths of andesite and rhyolite, which are popular with rock climbers, and it's many quiet trails crossing scenic Coast Range wilderness. The park is home to the endangered California condor as well as a large population of prairie falcons, and more than 13 species of bats living in the park's caves.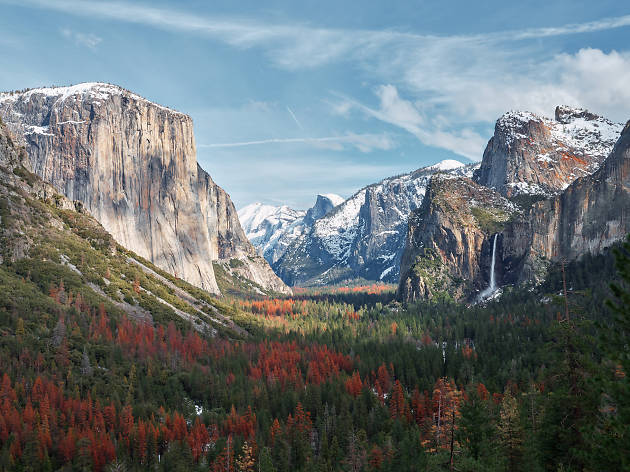 Photograph: Courtesy Aniket Deole
4hr 45min from L.A.
Yosemite features towering granite cliffs, dramatic waterfalls and old-growth forests, as well as the rock faces Half Dome and El Capitan, the Yosemite Valley and Yosemite Falls, one of the country's tallest waterfalls. Three giant sequoia groves, along with a pristine wilderness in the heart of the Sierra Nevada, are home to an abundance of rare plant and animal species.
Photograph: Courtesy Tom Gainor
6hr 30min from L.A.
Geologically diverse Zion boasts colorful sandstone canyons, mountainous mesas and countless rock towers. There are four distinct ecosystems here: desert, riparian, woodland and coniferous forest, plus natural arches and exposed plateau formations.
Photograph: Courtesy Alan Carrillo
7hr 15min from L.A.
The Grand Canyon is carved by the mighty Colorado River; millions of years of erosion and carving by the Colorado River have exposed 277 miles of colorful layers of the Colorado Plateau. The Canyon itself is a mile deep and at it's widest expanse, 15 miles wide. Grand Canyon National Park is the second-most visited park at over 6 million visitors per year.
Photograph: Courtesy Christoph von Gellhorn
7hrs 30min from L.A.
This park, part of the dry Sonoran Desert, is home to a great variety of life. Beyond the namesake giant saguaro cacti, there are barrel cacti, chollas and prickly pears, as well as bats, spotted owls and javelinas (hoofed mammals that look a lot like mini boars).
Photograph: Courtesy Ben Turnbull
7hr 45min from L.A.
Bryce Canyon is a giant geological amphitheater on the Paunsaugunt Plateau. The unique area has hundreds of tall sandstone hoodoos (tall, thin rock spires) formed by erosion. The region was originally settled by Native Americans and later by Mormon pioneers.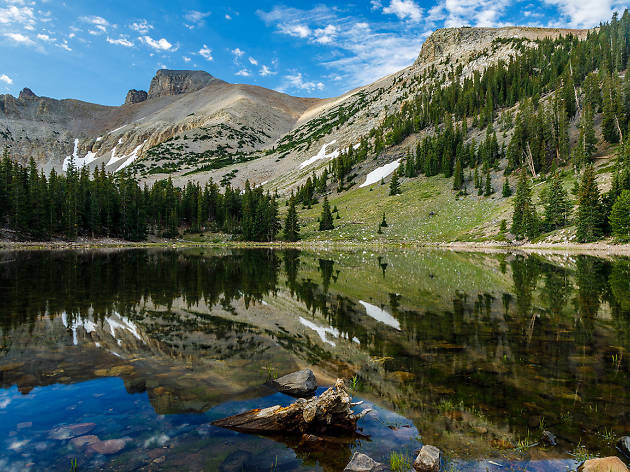 Photograph: Courtesy CC/Flickr/James Marvin Phelps
8hr from L.A.
Based around Nevada's second tallest mountain, Wheeler Peak, Great Basin National Park contains 5,000-year-old bristlecone pines, a rock glacier and the limestone Lehman Caves, and is home to animals like bats, pronghorns and trout. It also boasts some of the country's darkest night skies.
Photograph: Courtesy Patrick Bösiger
Lassen Volcanic (California)
8hr from L.A.
This park has four types of volcanoes including Lassen Peak, the largest plug dome volcano in the world. Lassen Peak last erupted in 1915, but much of the rest of the park is continuously active: molten rock heats numerous hydrothermal features including fumaroles, boiling pools and bubbling mud pots.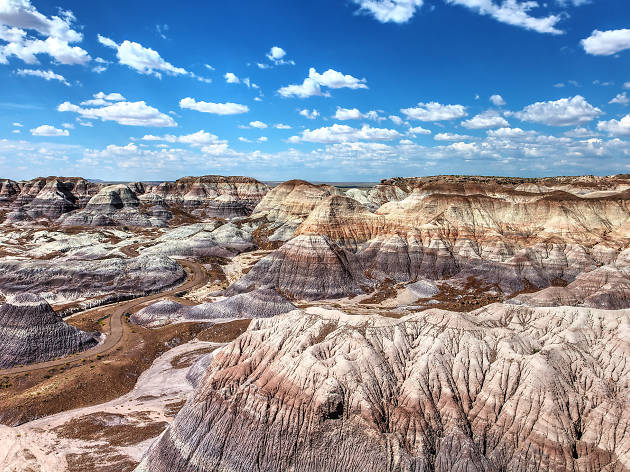 Photograph: Courtesy CC/Flickr/James Marvin Phelps
Petrified Forest (Arizona)
8hr from L.A.
This "forest" is made up of a large concentration of 225-million-year-old petrified wood. The surrounding Painted Desert features eroded cliffs of red-hued volcanic rock, dinosaur fossils and more than 350 Native American sites.
Article Courtsey : Here