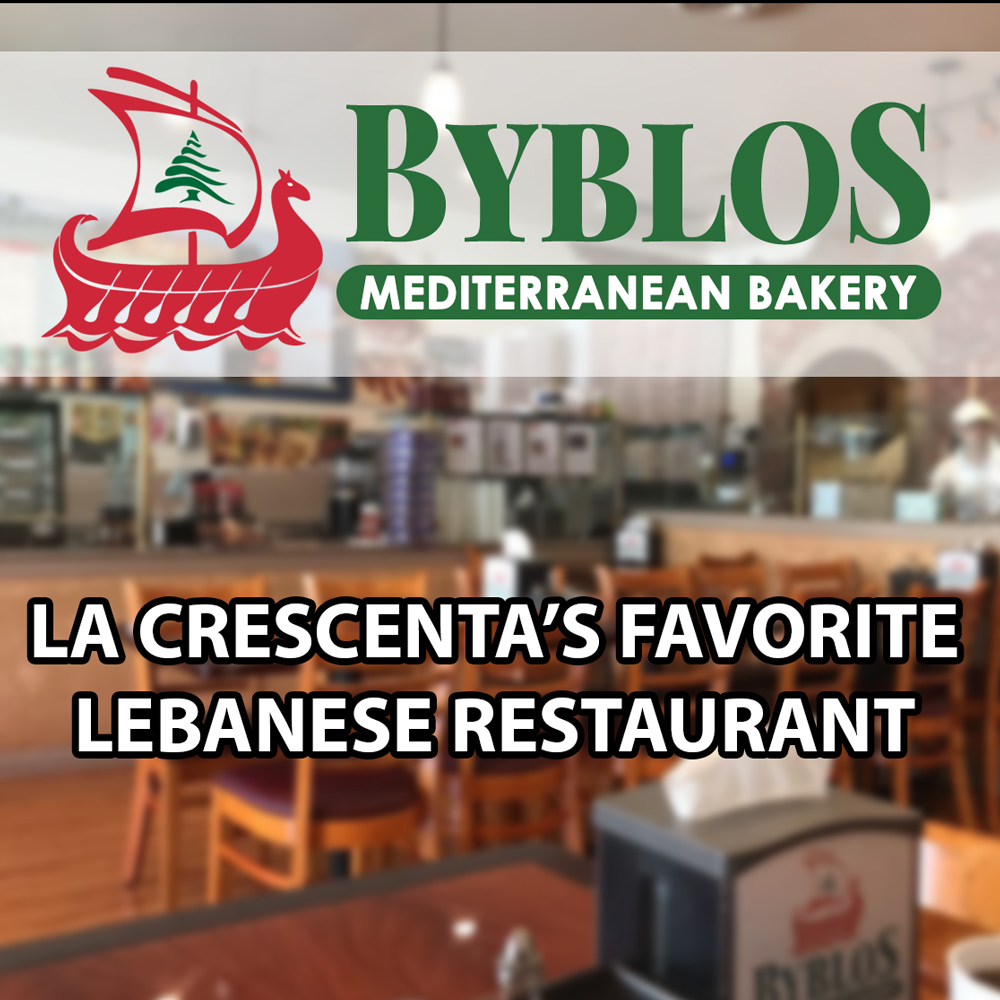 Family owned and operated, Byblos Mediterranean Bakery aims to be La Crescenta's top restaurant. Ambitious and full of passion, Avo crafts each dish with exquisite taste that brings the Middle East to Central Los Angeles. Stop by, say hello, and enjoy a meal that will surely please your palette.
Don't be put off by the plain appearance of this place. Though superficially resembling a Middle-Eastern fast food restaurant, Byblos is head-and-shoulders over other such places in food quality and preparation. In particular, Byblos is set apart by the fact that they are a bakery, so they bake their offerings in-house and thus arrive extremely fresh to your table. Billed as a Lebanese restaurant, it is in fact Armenian owned.
With a small number of tables, the atmosphere is unremarkable. Again, don't be bothered. With Armenian music playing in the background, you place your order at the counter; there's no order-taking at the tables. Efficient order-takers (which often includes the manager) will take your choices and charge you. You pick up your number placard and choose a table to sit, where the delicious fare will soon arrive.
Arriving early on a Saturday night, we took advantage of being in a small group to fully sample their menu. For appetizers, we chose one of Byblos' offerings that immediately sets it apart from their peers: Their abundant selection of Beuregs (Armenian flat breads with fillings.) We chose Spicy Cheese, Zaatar with Cheese (thyme, olive oil, sesame seed and cheese), Green Olive, and Spinach & Cheese. All arrived deliciously crisp and tasty.
Next came the soup, the traditional  Vartabed or "Priest" Soup (lentil soup) to which you must always add lemon and cumin:
Then we moved on to the more traditional Vegetarian Plate (falafel, hummus, mutabal (eggplant spread,) tabouli, sarma (stuffed and rolled grape leaf) and pita bread.)
Though often offered, Byblos again excelled in this dish. Everything was very fresh; especially the tabouli, served over a single leaf of romaine lettuce. The pita bread was very different from the usual: Freshly baked, it arrived still plump from the oven heat.
With it we ordered lahmajun (Armenian pizza with a thin layer of ground meat and vegetables:)
We continued our tasting with another of Byblos' unusual offerings: Fried Cauliflower. Often baked, the cauliflower here had just the right amount of crispness, not too crunchy nor too soft. The fried cauliflower was served with two sauces: a tahini sauce and a garlic lemon parsley dressing that was excellent.
We rounded up our choices with kibbeh (An egg-shaped bulghur-meat shell filled with ground beef)
and Filet Mignon Kebab (chunks of marinated filet mignon grilled on skewers) served with roasted pepper and tomato and sides of mutabal and hummus:)
Both of these – together with the lahmajun-  received the approval of our meat-eating members.
We all agreed that Byblos is comfortably placed at the top of Middle-Eastern restaurants. Though not on the cheap side, Byblos is nevertheless reasonably priced, particularly considering the quality. All the above samplings including a drink came to just $55. Highly recommended!
Byblos Mediterranean Bakery, 2948 Foothill Blvd, La Crescenta, CA 98214. Parking available both on their lot and on the street.