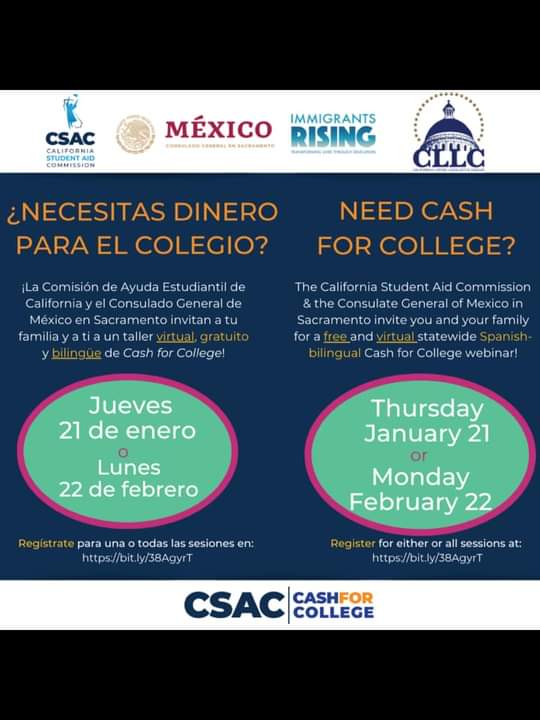 From Assembly Member Luz Rivas' Office:
Dear Students and Families of AD39,
Do you need Cash for College? It's not too late! Complete the Free Application for Federal Student Aid (FAFSA) or California Dream Act Application (CADAA – the financial aid application for immigrant students) now! Join the California Student Aid Commission for our FREE Cash for College Webinars! Learn about the FAFSA and CADAA application and get your questions answered via the Cash for College hotline! Please note that the webinar will be structured in the following way:
1. Financial Aid Applications Overview: ~40-60 minutes
2. Opportunity for attendees to call our toll-free number for assistance: 1.5 hours
Register for a webinar that works with your schedule here!
Please have the following documents available during the webinar:
• FSA ID (only for FAFSA filers and parent(s) or guardian(s) with a SSN), OR Dream Act Account (only for CADAA filers)
• Driver's License (optional)
• Social Security Card (if you have one)
• Alien Registration Card (if you have one)
• ITIN (if you have one)
• List of colleges you are interested in to list on the application
• Most current bank statements
• Any records of untaxed income
• 2019 tax information (1040's and W2's) o This includes your parents' tax information if you are a dependent student.
· Am I an independent or dependent student?
You will have an opportunity to ask questions via Q&A box (general questions only) or via our Cash for College hotline during and after the webinar. Please have your FSA ID or Dream Act Account completed and ready for the webinar so you can follow along and complete the application.
See you soon!