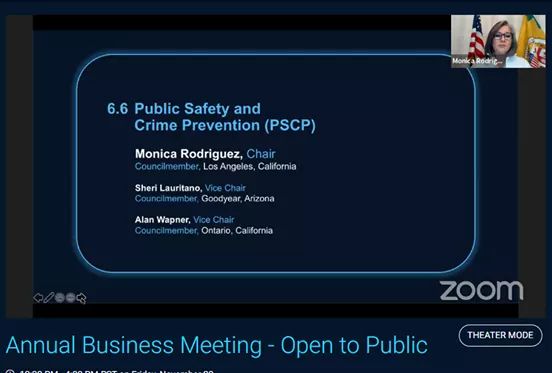 I was honored to represent our city and serve as 2020 Chair of the National League of Cities Public Safety and Crime Prevention Committee. This Committee is responsible for developing national policy positions on issues involving crime prevention, corrections, substance abuse, municipal fire policy, juvenile justice, disaster preparedness, and relief, homeland security, domestic terrorism, court systems, and gun control.
The National League of Cities (NLC) is an organization made up of Councilmembers from across the nation, fighting for resources improving the quality of life for their current and future constituents. Their mission is to strengthen local leadership, influence federal policy, and drive innovative solutions.
As Chair of one of NLC's seven Federal Advocacy Committees, I was provided the unique opportunity to work with leaders across the country, unifying our efforts that deliver reform and advocate for additional federal resources to keep Angelenos and cities across America safe.