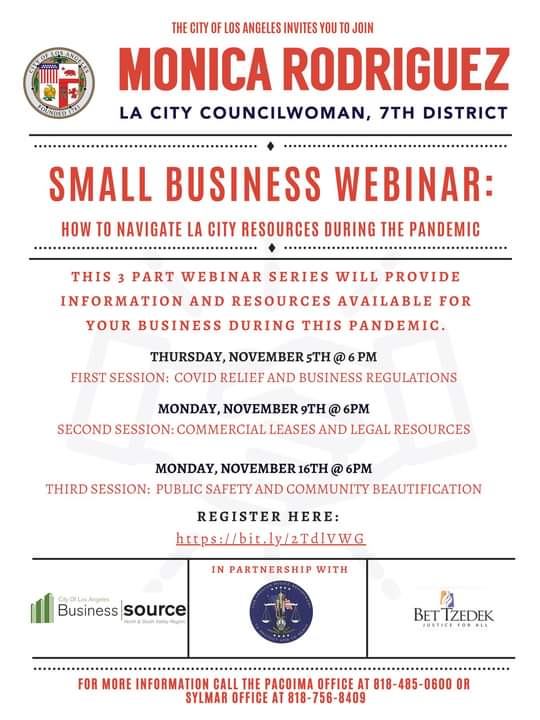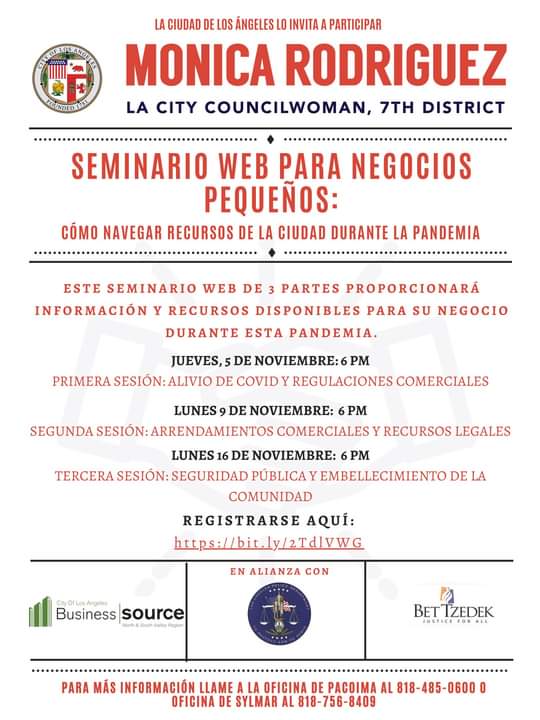 The City of Los Angeles invites you to join a small business webinar: "How to navigate LA City Resources During the Pandemic."
This 3 part webinar series will provide information and resources available for your business during this pandemic.
✅ 1st Session — "Covid Relief and Business Regulations"
Thursday, November 5 @ 6 pm
✅ 2nd Session — "Commercial Leases and Legal Resources"
Monday, November 9 @ 6pm
✅ 3rd Session — "Public Safety and Community Beautification"
Monday, November 16 @ 6pm
Register @ https://bit.ly/32kktXx
For more information, call the Pacoima office at 818-485-0600 or Sylmar office at 818-756-8409.
⬇️ ⬇️ ⬇️ ESPAÑOL ⤵️ ⤵️ ⤵️
La Ciudad de Los Ángeles los invita a participar en un seminario web para negocios pequeños: "Cómo navegar recursos de la ciudad durante la pandemia."
Este seminario web de 3 partes proporcionará información y recursos disponibles para su negocio durante esta pandemia.
✅ Primera sesión — "alivio de covid y regulaciones comerciales"
Jueves 5 de noviembre @ 6 PM
✅ Segunda sesión — "Arrendamientos comerciales y recursos legales"
Lunes 9 de noviembre @ 6 PM
✅ Tercera sesión — "Seguridad pública y embellecimiento de la comunidad"
Lunes 16 de noviembre @ 6 PM
Registrarse aquí: https://bit.ly/32kktXx
Para más información llame a la oficina de pacoima al 818-485-0600 o oficina de Sylmar al 818-756-8409.