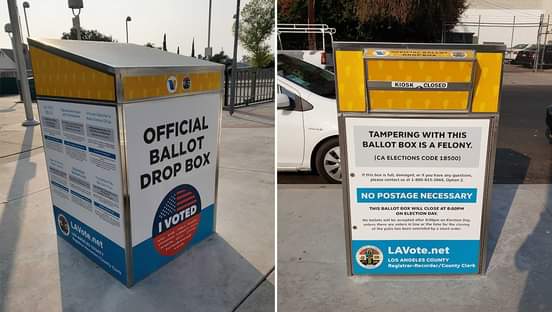 🇺🇸 ATTENTION VOTERS 🇺🇸
To ensure Los Angeles residents can safely vote in the 2020 Presidential General Election, StreetsLA worked with the Los Angeles County Registrar-Recorder/County Clerk to install 123 Official Ballot Drop Boxes around the City.
The boxes will be easily accessible, conveniently located for voters to drop off their ballot, and available by October 5 (the day mail-in ballots are released).
Before you drop off your Vote by Mail ballot make sure:
• Place your voted ballot card(s) inside Official Return Envelope
• Securely seal the Official Return Envelope
• Sign and date the back of the Official Return Envelope
To make sure your ballot was received and counted, visit https://www.lavote.net/av_inquiry 30 days before Election Day.
✅ List of Official Ballot Drop Boxes in the 7th Council district:
Lake View Terrace Branch Library
12002 Osborne St.
Lake View Terrace, CA 91342
Pacoima Branch Library
13605 Van Nuys Blvd.
Pacoima, CA 91331
Sunland-Tujunga Branch Library
7771 Foothill Blvd.
Tujunga, CA 91042
Sylmar Branch Library
14561 Polk St.
Sylmar, CA 91342
If you have any questions about Official Ballot Drop Boxes or have any other concerns, please do not hesitate to contact my office at (213) 473-7007.
#2020GeneralElection