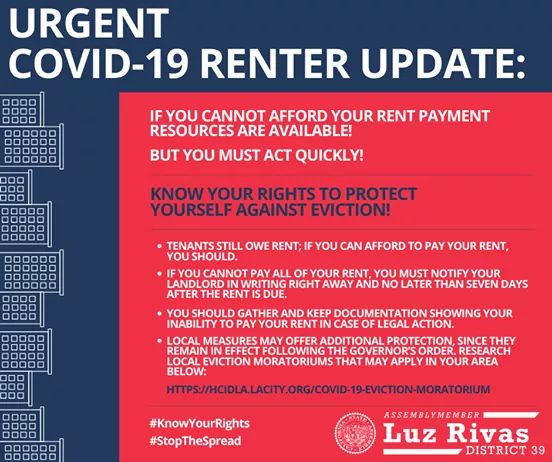 #ICYMI – I provided a renter's rights and protection post yesterday. It was brought to my attention the documentation of my post needed further clarification. Here is an updated renter's right and protection information. Please share this information with your family and friends.
1) If you can afford to pay your rent, you should continue doing so.
2) However, if you are unable to pay rent because of #COVID19, you must notify your landlord in writing right away, and no later than seven days after the rent is due. The written notice must state that you are unable to pay the full rent due to reasons related to COVID-19.
*3) Tenants are NOT required to provide documents at the time they are notifying landlords that they are unable to pay rent due to COVID-19. However, I strongly suggest that you gather all documentation that shows your inability to pay rent, in case your landlord takes legal action after the Governor's Executive Order expires. These documents will prove you are entitled to the protections offered under the Governor's Executive Order to delay evictions.
Appropriate documentation includes notices of layoffs or reductions in hours, pay stubs, bank statements, or medical bills. Finally, please be prepared to respond in the case that your landlord files an eviction case. If this happens, consult with your legal aid or use courthouse self-help clinics.
For additional guidance please see: https://oag.ca.gov/system/files/attachments/press-docs/Tenant%20Executive%20Order%20Guide%20UPDATED.pdf
For more information, please call my office at (818) 504-3911.