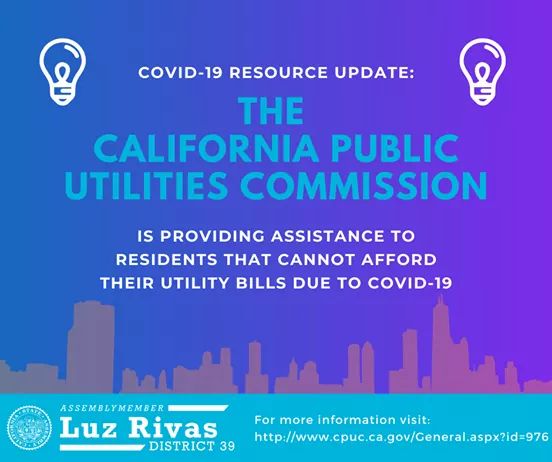 As #ShelterInPlace continues for most residents, utility bills are likely to increase from extended time in the home. I'm happy to share that yesterday the California Public Utilities Commission (CPUC) has taken action to accelerate the use of its programs to help reduce the impact of anticipated higher energy bills due to many Californians staying at home in response to the #COVID19 #Coronavirus pandemic.
The first program is the California Climate Credit. Twice a year, #AD39 residents that have Edison or So Cal Gas, receive a bill credit from $20 – $60 (depending on the utility) in April and October. Due to Covid-19, it is expected that utility bills will be higher than usual in April, May, and June which has led to the CPUC to move the second credit payment date to May or June. Credit amount can be found at https://www.cpuc.ca.gov/climatecredit/.
The second program is the California Alternate Rates for Energy (CARE) discount program. The CARE program provides a 20 to 35 percent discount on utility bills. Many people who have recently lost their job due to COVID-19 will be eligible for the program. Customers just have to call their utility and ask to be enrolled. Information on participating in the program, including monthly income limits, can be found on the CPUC's website at www.cpuc.ca.gov/General.aspx?id=976.
My office is here to help, if you have any questions or concerns please call my District Office at (818) 504-3911 or email at Assemblymember.Rivas@assembly.ca.gov.